Law Office Management solution on HCL Domino - Intelidoc
Lower your TCO for IT supporting your Law Firm
Emails, Documents, Matters, Billing, Time tracking, Calendaring, and other functions are all embeded in a single comprehensive tool.
Enable remote work - Focus your firm with Intelidoc
You want a practice management solution that will ensure your law practice runs efficiently wherever you are. You do not need 10 different tools to manage your firm. You can use one tool that covers what you need. Be at ease. With Intelidoc legal practice management software you can access your practice 24/7 from any computer. You do not even need VPN software. All traffic is encrypted by default.
Switch from non-integrated tools to a platform that covers most of your operations.
You do not need 10 tools to manage your firm.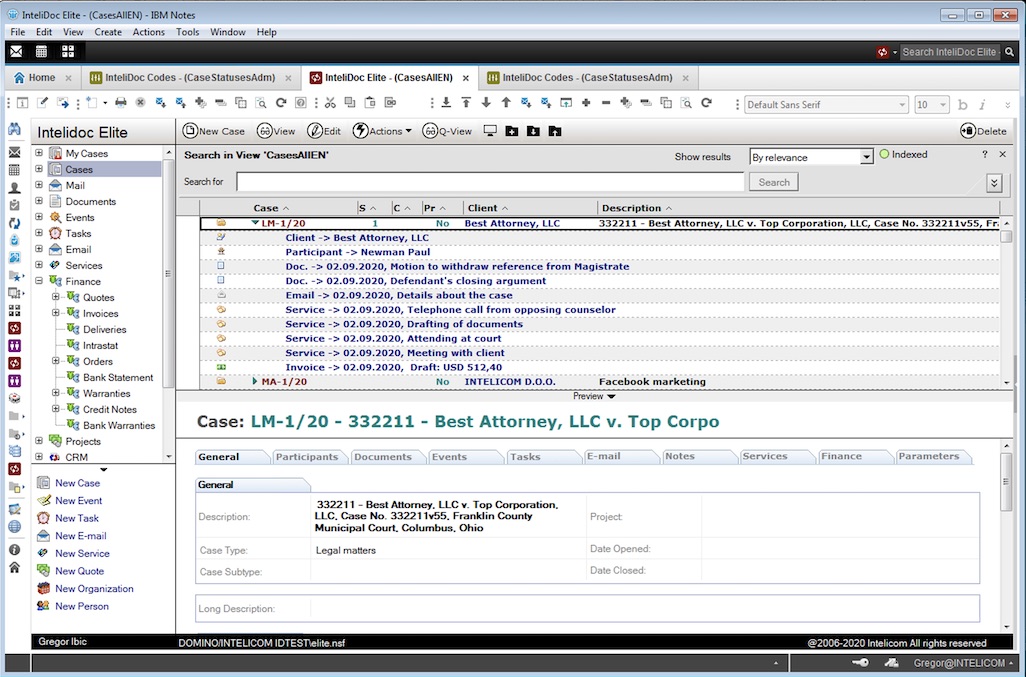 Access all your firm's files and all the file content instantly
Intelidoc organizes your practice in the simplest and most intuitive way, so you can reach and exceed your goals. A wealth of functionality is integrated into a single, lawyer-friendly system. Integration has so many benefits, from natural workflow to re-using information, enhancing teamwork and capturing more billable time. It will increase the organization of your firm and allow you to practice more efficiently.
Matter / Case Management
Client matters are the building blocks of your practice – you open a file for each. Everything you do and everything you bill revolves around these files. Intelidoc understands this. It makes all your files and all the file content instantly accessible, better organized and much easier to use.
Tasks and Deadlines
Intelidoc helps you to get organized and get things done. With the HCL Domino integration, your To-Do list is synced whether you are working inside Intelidoc or email.
Legal Calendaring
Intelidoc provides comprehensive legal scheduling that works the way you do. Manage appointments, tasks, deadlines for yourself, everyone in your workgroup or your entire firm. Feel secure with an organized calendar that notifies you of any changes – in the office or on the go.
Precedent Workflows
You often have to do the same series of things on matters of the same type. Some of this can be put into a checklist, although it is a moving target, as there are dependencies between steps. Intelidoc has a superb workflow, and guarantees consistency for all of your matters.
Link Events
With Intelidoc you can link events for accurate and convenient scheduling. Legal steps usually have defined timelines or deadlines. There can be many related activities, often extending over a long period of time.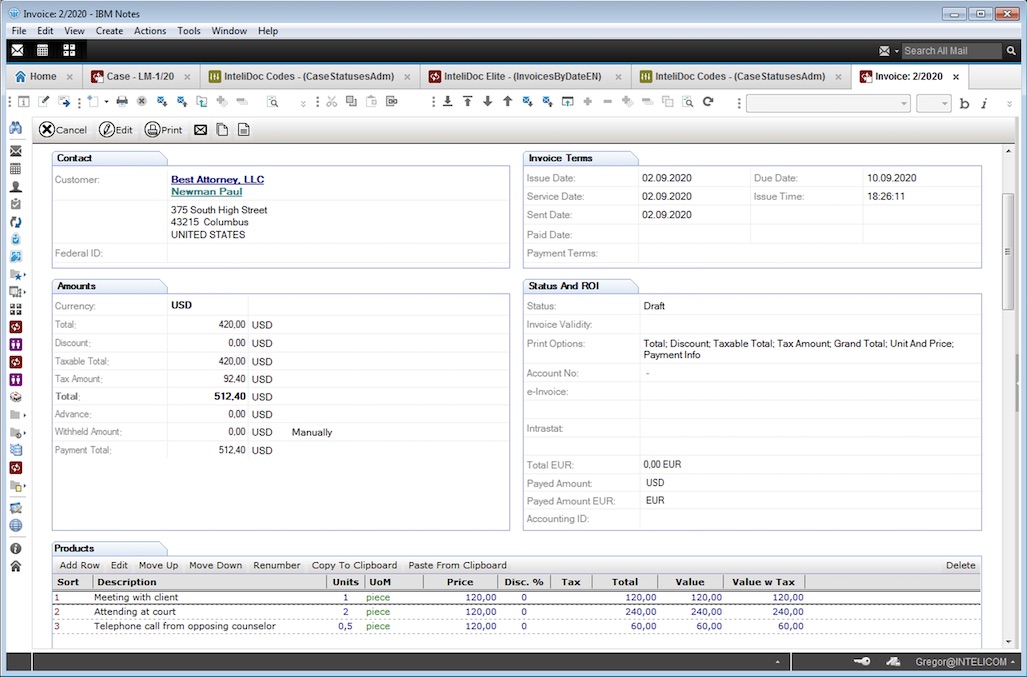 Integrated with HCL Domino Notes
Intelidoc is fully integrated with HCL Domino Notes. You can link and copy emails, attachments, create tasks, billable service entries, schedule notifications and trigger workflows inside same integrated system.
Email Integration
Every email you send or receive through Notes or Intelidoc can be stored and binded to Matter, automatically. You don't have to do anything extra. No need to select, forward or copy anything. It just happens.
Document Management
Our lives are filled with documents: contracts, deeds, mortgages, pleadings, filings, transcripts, registrations, wills, forms… all so important to the practice of law, and Intelidoc helps keep it all organized. There is no need to download upload process. You can edit Office and other documents inline. Documents are saved to Intelidoc by default.
Fast and Accurate Document Automation
Intelidoc not only organizes your practice – it helps you automate it too. Automating aspects of your practice will make you more efficient and profitable. It will also ensure your work is done more accurately, and reduces the risk of things being missed. Use templates and generate documents in seconds. You can then edit them and customize according to a case.
Further Document Automation
Intelidoc can create folders for all your matters, so when you add a document to that folder it appears in Intelidoc – automatically associated with the correct client file.
Time Tracking
Intelidoc makes it so easy to create time entries for all the work you do. But just in case you forget to do one, the handy Time Tracker helps make sure that no billable time gets lost. With a click you can see all your activities where no time entry has yet been recorded.
Time Capture
Bill more time, more easily. While you work, Intelidoc is in the background, keeping track of what you are doing. It will often present you with a time entry, completely filled in for you. Or you can create new time entries with handy shortcuts, far easier than scribbling them out on paper.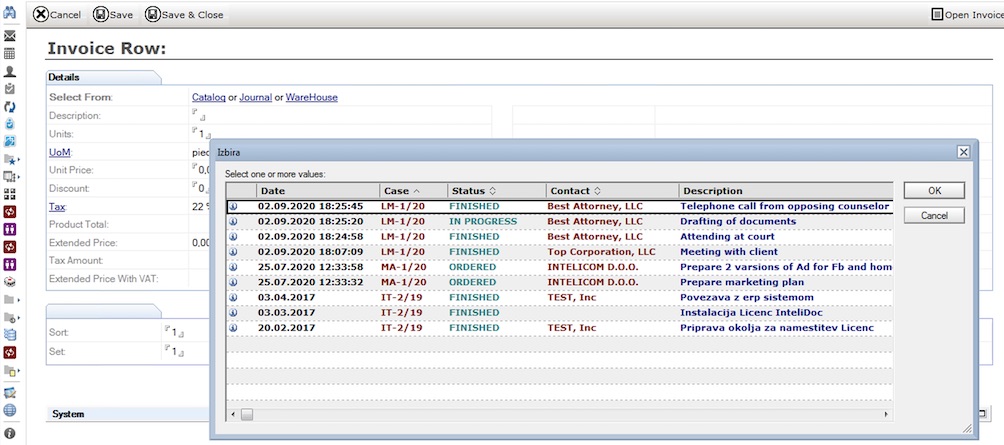 Time and Fees
Intelidoc provides unified time and fee management to help streamline client billing. Record your time quickly, easily and accurately. Have different billing rates and billing behavior of time entries automatically apply to Files.
Billing and Invoicing
Bill your clients promptly with nicely designed invoices. Send bills electronically via our secure client portal. Track payments and get alerts on overdue bills. No one likes chasing clients, but staying on top of who is overdue, and prompting them to make their payment, is an essential part of a financially successful practice. You can import statements from your bank and instantly check what is the status with payments. You can then notice clients about overdue bills.
Client Portal
In these competitive times, your clients want to feel more connected and in control of their legal work. With the Intelidoc Client Portal, they will. The Intelidoc Client Portal gives you the ability to easily share information electronically with clients.
Intelidoc Web Mobile App
Intelidoc Web Mobile app gives you easy access to your files, clients, phone calls, time entries, and notes, all from the palm of your hand. Capture and track every billable moment, from the expected meeting to the unexpected phone call, and everything in between.
Syncs and integrate with accountant software
Most accountants prefer their software for your general ledger and accounting. Intelidoc has a module to sync financial data with external ERP systems, so information updates automatically between both systems.