InteliDoc Factoring - Invoice financing management
Key Advantages of InteliDoc Factoring
Increased productivity – Automating processes such as preparation of documentation, verification of financial parameters of the parties, detailed history of business enables you to work much faster with fewer opportunities for error. Time spent for commercial office activities can be reduced up to 40%.
Risk minimization - Portfolio and risk management features enable you to carefully plan your projects, take care of reinsurances and monitor your financial exposure.
Complete transparency in audit trails - InteliDoc enables you to transparently follow all stages of factoring business. From customer's order or inquiry, contracting, evidences of goods and services delivery to invoice tracking. All steps in factoring procedures can be tracked and monitored. With InteliDoc you will get a complete overview of current business operations.
Effective automated monitoring and reporting - InteliDoc is made reliable and secure in the way that it works without interruption for years. Customers use it for over 7 years without a single interruption.
Knowledge sharing - Knowledge management functions of InteliDoc will enable for improved performance, competitive advantage, innovation, integration and continuous improvement of the organization. Knowledge is a strategic asset for the company and it is materialized-written information about the business, customers, competition and other important factors for successful business.
Flexibility - with multi-currency, multi-language support, affiliated client treatment. InteliDoc enables all your branch offices to use a common database and share all client and contract information.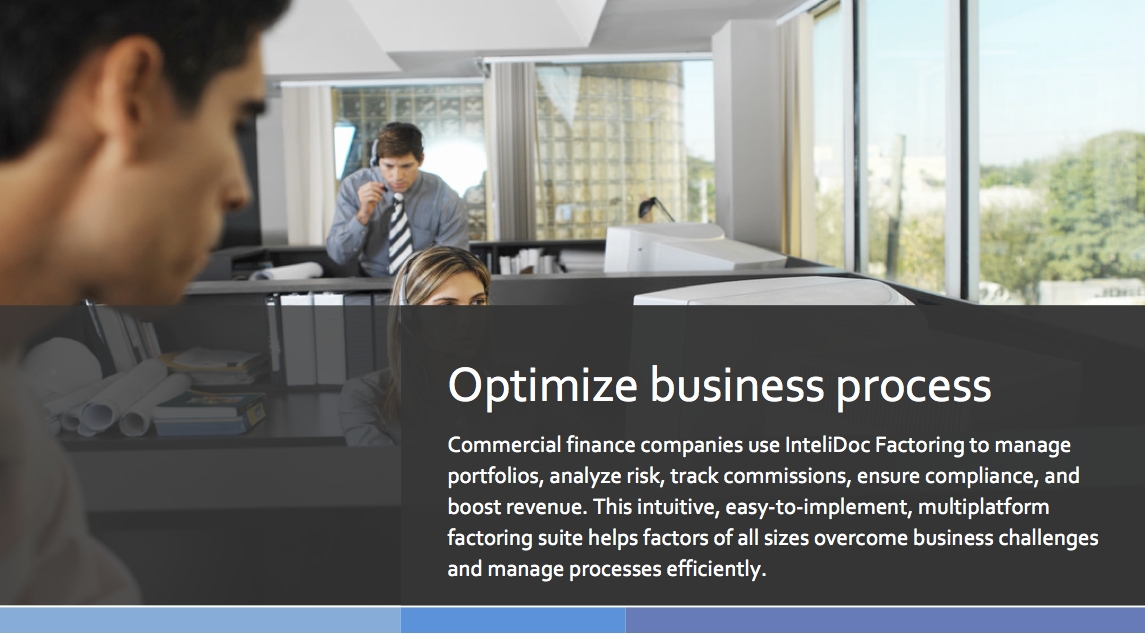 Priorities built in the system
All in one system
Due to flexibility, all departments within the company will be using one system for knowledge sharing. The involvement of different departments can significantly improve communication and performance of the company. Projects, documents, tasks, invoices, services, everything will be properly stored and shared between your coworkers.
Security
The system has built-in security mechanisms, so information will be safely hidden from unauthorized access. You can adjust who can "see and edit" for every information in the system. Permissions can be set on groups, departments or personal basis. Users can set the permissions based on current needs and don't need an administrator for day-to-day operations.
Flexibility
InteliDoc is made very flexible. It may be set for use in various industries (distribution, manufacturing, financial services, service industries, marine and transport, legal offices, public services, marketing, sales, …). In all these activities we have implementations in production use.
Reliability
InteliDoc is made reliable and secure in the way that it works without interruption for years. Customers use it for over 7 years without a single interruption.
Continuity
A system for document management and knowledge should have a longer life. InteliDoc system is being developed with an eye to continuity over a long period of use. In this way when the system is upgraded to newer versions, the work is not disrupted and financial resources are not consumed on an adaptation of the environment.
Financially advantageous
System is developed in modular matter. You can opt for a module you need and lower your costs in this manner. It also run on different systems from Windows, Linux and OSX so you can leverage the equipment you already have. You can also start using the system with very low profile infrastructure requirements and grow, as you need.
Intuitive
You can start using InteliDoc after a very short introduction.
Integrations
The system has modules for integration with external systems. InteliDoc can connect to relational databases such as MS SQL, Oracle, IBM DB2, MySQL and others. Connection to GL systems like Navision, Scala, SAP and others is also possible, to exchange financial information.
Extensibility
If the customer chooses to implement specifics of its business in InteliDoc system is possible to extend InteliDoc with additional modules. For example we developed modules to support Factoring, Compensations, Legal office, Shipping transport and others.
Developing system
InteliDoc is constantly evolving. From the good practices of the users we develop new functionality and solutions that are then available to other users of the system.
Factoring Module builds on top of InteliDoc Elite business framework. It embeds all the functionalities from the base product and adds Financials extensions to the product.
Contract Management
Contract management module enables you to bind all related information in one case. You can bind emails, documents, events, tasks, participants, mails, invoices, services and other kind of information in an easy to understand overview. Access to all information is fast, easy and reliable. You will stop spending your time on searching for information. Everything will be just there, one click away.
Business events recording will enable you to store all important business information in one place. You will practically store your business know-­‐how in a reusable centralized store. This will enable you to better cooperate within your organization and assure that no important data will be lost cause of human resources fluctuation. Business and case related emails can also be stored in InteliDoc, so you will not have to check personal email databases when you will be searching for business agreements, obligations and other important emails.
You can even record relations to external contacts, like participants in certain case. Everything will be properly linked to Contacts database, so you will enter contact information just once. Of course you can store all kinds of documents, track your work with Tasks and even create Invoices based on your work.
Document Management
InteliDoc brings you central document storage. Beside standard storage it will enable you to classify documents, search them, edit them in place without detaching to local storage in then uploading it again. Everything is done automatically without user intervention. InteliDoc embeds a powerful security model that enable users to administer access restrictions to documents, projects and other entities. You will not need an administrator to manage your security policy.
If you have repetitive operations like creation of documents or data entry from contact information, you can automatize this with document templates. InteliDoc will gather important data that you need to fill the document and prepare it for you. You will edit only the custom parts of the documents. This is extremely useful for contracts, financial forms, legal documents and alike, where you simply can't do errors in documents. Classification of documents can be customized and documents can be grouped by projects, cases, folders and other type of binding operations. InteliDoc has an embedded full-­‐-­‐-­‐text engine that enable you to search for documents by keywords, logical operations and all texts that are in documents like MS Word, OpenOffice, and others.
Imaging
Even now, many of business documents arrive by classical postal mail in real paper. You can store this documents in classical binders and lose your precious time every-­‐time you search for some important information. Or you can image these documents and store them in InteliDoc. Access to imaged documents is fast, reliable and easy. You can access a required document in seconds, not minutes. In InteliDoc all imaged documents are converted to PDF document so you can read them on every system available. This way you will get a secure archival system that will serve you for years to come. If you need an editable document you can use OCR function that will convert PDF document in editable text that you can reuse.
Mail Processing
Besides imaging of classical postal mail with belonging attributes, InteliDoc has also functionality to process received and sent documents. Documents can be delegated for further processing trough the organization, different workflows can be applied on them and every step will be tracked and notified. This way you will decrease a need for constant coordination activities that burdens your concentration like constant phone calls and meetings. This module will be a real time saver in your company.
Email Archiving
Email is defacto become a standard way to conduct business. Agreements, invoices, technical documents, all these business documents pass trough email and you probably consider them crucial for your business. InteliDoc enables you to securely archive in and centralize all business email documents. And not only archive, you can even send and receive emails directly from InteliDoc, so you don't have store them in InteliDoc, they will be there from the start. Emails will be archived with all attributes and content like they were received. You can classify emails to projects or cases or by user defined tags specific to your business. All conversation that matters certain project or case will be transparently accessible to all project members. You will not have to search each persons email box to find an important email. Important emails will be easily accessible in matter of seconds.
CRM
InteliDoc system has an embedded contact management module. InteliDoc Contacts let you store all kind of information about your clients, from contact info like phones, emails, addresses, to detailed financial data or those that are important to you. Contacts database will help you develop a targeted and effective sales strategy, customer service or marketing campaign. You will get a complete overview of your customers or potential new clients.
Company Calendar
Coordination and time scheduling is an important part of project and case management. InteliDoc Elite includes project calendars, tasks and event notification based on teams, users, or different kind of organization. There are also many different types of notification based on due dates, contracts definitions and other types of rules. With InteliDoc Elite you will never miss a scheduled obligation or commitment again.
Automations
Workflows are predefined procedures that have to be followed to accomplish certain task. These procedures can be tracked with workflows. Workflows can be based on cases, documents, or other types of forms. Participants in the workflow will be notified about the progress, changes and due dates. Using workflow functionality is very simple in InteliDoc. InteliDoc has also an extensive functionality of Batch processing that can be used for automated data processing.
Integrations
InteliDoc Elite integrates with Outlook, Lotus Notes, MS Office, OpenOffice, SQL Servers (MSSQL, DB2, MySQL and others), finance applications (Navision, Scala, …). Data in InteliDoc Elite can be replicated to external systems for usage in other systems. Data can be also integrated with scheduled import and pair functionality. You can easily integrate InteliDoc with your in-­‐­‐house financial system.
Email Server
With purchase of InteliDoc elite you get also a license for a rock solid email server with all standard functionality like web access, out of office notification, server based email storage and other functions. You do not need to purchase other email systems.
Reporting And Analytics
Gain real time state of your business and performance indicators.
Many FCI member companies rely on InteliDoc's robust and reliable solution. They need to streamline their processes, increase efficiency, and relax into business growth and profitability.
Customer Database
Thanks to customer-centricity of InteliDoc, it has become easier to continuously monitor and measure the performance of your client base on a global basis. With InteliDoc, adopting required marketing activities takes less effort than before. Grouping and tracking affiliated companies and enterprises enables you to further lower your risks in a global economy.
Operations Module
Containing a diverse array of functions related to factoring transactions, this module streamlines and automates all of your operations.
Store and monitor client information
Make well-informed credit decisions through in-built credit decisioning workflow
Employ overall, group, account and invoice‐based credit limits for clients; overall and seller‐based credit limits for debtors; overall credit limits for correspondents
Monitor and review limit and risk information of clients, debtors, and corresponding factors real time
Manage and process factoring agreements
Open, monitor, and report accounts of clients
Handle payments and collections
Produce invoices of interest, commission, and expense collections
Flexible day-to-day automated procedures
Multi-currency capability
Automatic integration of exchange rates
Detailed open‐item level analysis
Handling of credit insurance including all obligations
Process control monitoring
Escalation procedures
Extensive ratio calculation
Portfolio optimization
Flexible fee models including invoicing
Multi-national client structures
Excerpts from daily factoring operations in InteliDoc Factoring
Factoring Inquiries
Inquiries for Factoring business can be accepted via different ways. Over classical mail, e-­‐mail, phone, personal conversation, web form or fax. All these methods of communication can be integrated in InteliDoc system. Paper documents are imaged and saved in PDF form, e-­‐ mails are attached in the common database, phone and personal conversation can be registered as a business event, web forms are directly integrated in the system and faxes are received via e-­‐mail. For new clients, data of the client has to be registered in InteliDoc Contacts, which is a central database for client information. InteliDoc has many ways of communicating with external databases, so the form fulfillment can be automated from these sources. Registering new clients this way is very fast and with the least amount of errors possible.
Analysis of clients, questionnaire
First step in the process of factoring business is preparation of financial statements, credit reports and other published information that has impact on client's creditworthiness. All the information is collected in InteliDoc Elite where Case/Contract is assembled. Standard questionnaire is then sent to the client that fills the information about its current financial state, list of suppliers, list of clients, ownership information and others. Also the planned factoring project dynamics is presented. Commercial department assess whether the transaction is financially feasible. First the basic financial calculations of profitability are done in InteliDoc Factoring. Then the department of Risk Management evaluates the risk assessment in relation to suppliers and debtors and potential risks related to associated companies. InteliDoc has built-­‐in functionality to track international affiliated companies and manage risks attributed to linked organizations.
Calculations of margins, interest and costs
Commercial department calculates the margins and financing costs and other expenses. InteliDoc Factoring has utilities to quickly calculate all parameters of the project. Preparation of documents for the credit committee is also automated. Embedded automations and workflow procedures take care so the commercialist doesn't forget any important information and that the calculations are double-­‐checked. Documentation relating to suppliers, debtors, financial parameters and risk assessment is assembled and by procedures passed to the next level -­‐ Credit Committee.
Credit Committee
The credit committee assesses the financial structure of the transaction and the risks associated with the transaction. Everything can be evaluated in the InteliDoc Factoring in electronically way. Meetings can take place in a digital manner. All stages of proposal workflow are documented and transparent. InteliDoc enables you to get a complete overview of active proposals and contracts.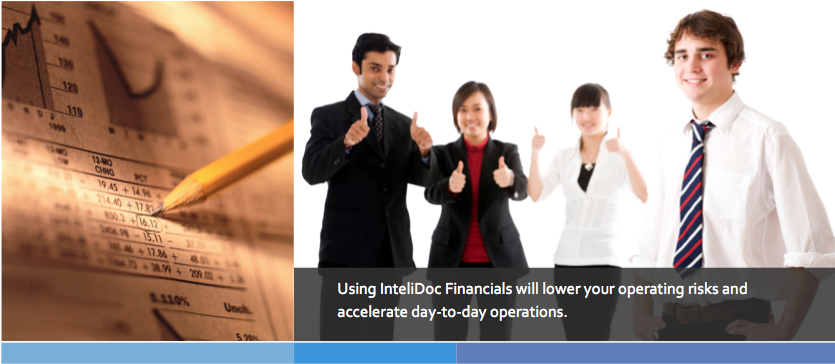 Consideration of currently exposure to a particular obligor or supplier is accessible in a simple and easy way. If the project is confirmed, then the commercial department is notified that it needs to send and offer. Otherwise the rejection letter is sent.
Contract signing The next step is to conclude a contract on the purchase of receivables. Client -­‐ the cedent and the debtor must deliver the necessary documents and guarantees for payment of claims (bills, mortgages, insurance, …). Factor may also reinsure the payments. All procedures are covered and automated in InteliDoc Factoring. There are several different types of factoring, classic, supplier, purchase bills, …, that can be managed in InteliDoc. Factoring can take place within one country, but also through several countries -­‐ international factoring. Such international factoring can be carried out within the Factoring group of companies, or through international factoring network FCI. Both ways are covered in InteliDoc.
Financing Before financing the purchased invoices finance department has to analyze different funding sources and determine how they will finance the factoring project. When payment is planed interests and other costs are calculated. Immediately preceding the date of payment finance department transfers the needed funds and liquidates the receivables. Tracking of funds, contracts, financial fees and calculations are integrated in InteliDoc Factoring.
Management of payments Tracking of active financing accounts enables you to monitor all open accounts until the receivables are repaid in full. After the fulfillment additional costs may be charged due currency conversions differences. At the same time factor has to monitor the balance between open amounts and insurance elements offered by clients so maximum limits are not exceeded. Exposure management Financial and risk department at the Factor has to constantly keep track of company's overall risk exposure cause of current open claims against debtors and suppliers. It also has to keep records of secured and unsecured debt and other financial indicators. All monitoring is automated with views -­‐ outlines, reports, events and alarms.
Collection In case of late payments, extension can be made for a limited time. Everything has to be properly documented with the amendment and additional insurances. Documentation can be automatically prepared in InteliDoc Factoring and reviewed by financial and commercial department. In the event that receivables are not settled, factor may continue to attempt to claim compensation. Compensation may be financial or trade compensations. In case of failure to fulfill the obligations the collection process can be started. Collection may be effected by judicial or extrajudicial proceedings. In any case, the recovery process generates a lot of notes, phone calls, correspondence, communications, contacts with legal offices, documents and other informal records. All these records can be managed in InteliDoc system. Damages also require preparing the appropriate documentation and delivering it to court or legal offices, which regulates the execution. Enforcement is necessary to monitor and respond immediately when there is new information or event regarding the case.
Financial Compensations Compensations can be done by finding chain of claims and compensate open receivables through the customer due invoices. In the process there is necessary to contact a large number of customers and suppliers in the chain from the debtor on. Recording necessary contact information, outstanding balances and future claims, and trying to find a chain that will be concluded by closing the claim is a task intensive work. All steps in this process can be registered and in some way accelerated by using InteliDoc system.